Recreational
SPEEDERTM
The world's first flying motorcycle.
JPA is developing a recreational version of the SpeederTM and is taking pre-orders now!
Flying the Recreational SpeederTM will be just like riding a motorcycle but in the sky!
The recreational SpeederTM will be the first turbine powered, fully stabilized vertical take off and landing (VTOL) personal aircraft ever built.
Being fully stabilized means that minimal pilot training will be required.
It will take off from practically anywhere and will fly at over 150 mph*
It will also fly at up to 15,000ft but we don't expect many of our customers to need this!
We plan to build two versions of the Recreational SpeederTM: The Ultralight Version and the Experimental Category Version.
The Ultralight Version (UVS) will not require a pilot's license to operate -

all training will be provided by JPA or one of our authorized training centers. The Ultralight version will be limited to carrying 5 gallons of fuel and to 60 mph flying speed. 

The Experimental Version (EVS) will require a private pilot's licence to fly and will have no fuel or speed restrictions. As the owner/pilot of the EVS we will host you in our manufacturing facility and you will be part of the aircraft completion process. This will satisfy the FAA rules around Experimental aircraft production.
LEARN MORE
Military/Commercial
SPEEDERTM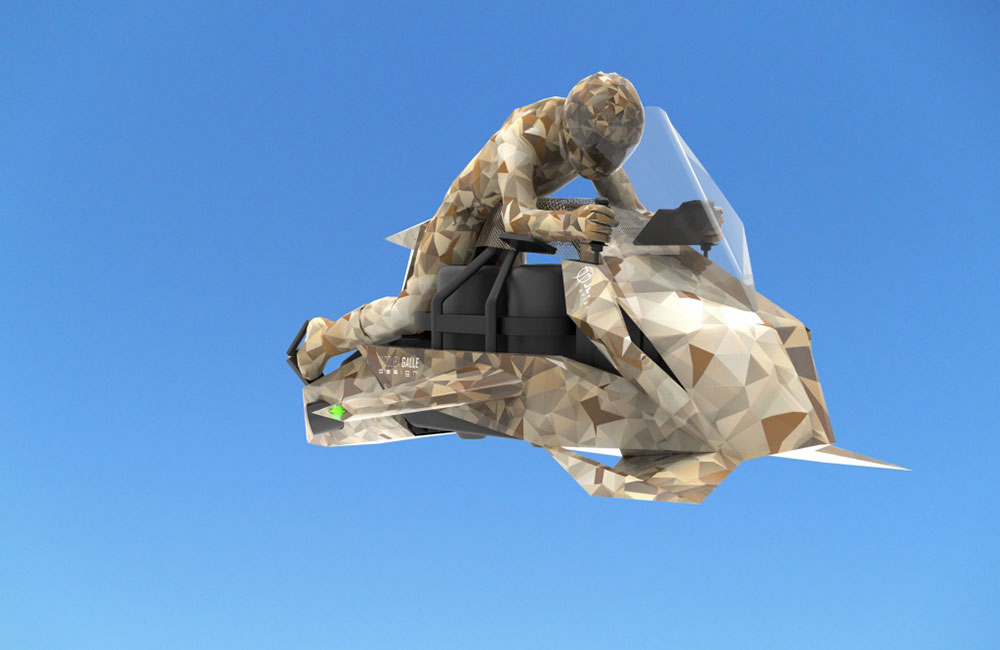 The world's first flying motorcycle.
Its mission - To Save Lives.
The SpeederTM is jet powered, very fast, very small and can be either piloted or operated fully autonomously.
It is hands down the fastest way to get a person or cargo across town  especially into or out of a high stakes environment be it military, emergency or disaster.
Compact and powerful, it can take off and land anywhere. Flying requires minimal training because the aircraft can fly itself.
In a military environment the SpeederTM can either be deployed as individual units or swarmed in multiple units.
Use cases include:  
getting a paramedic to their patient faster

transporting the patient to hospital faster
underway resupply between ships, faster and more cost effectively than a helicopter (and the flight deck does not need to be fully activated)
medevac wounded personnel from battlefield to level 2 or 3 aid station
moving equipment or cargo into position where it would be inefficient or too risky to use a helicopter
LEARN MORE
* All performance specifications are preliminary and will not be confirmed until the completion of our flight test program.